Useful links

TRAINS: Trenitalia, National Railway Company. On line ticket office; timetable of trains leaving from and arriving to Bologna. Bologna's geographical position makes it a natural crossroads for Italy's main motorways (A1, A13, A14) and the most important national railway hub, ensuring swift easy access to all parts of Italy. Bologna is at a crossroads for the rest of Europe, too. Located in the heart of the Emilia-Romagna Region, the city is a natural meeting point of north and south, east and west, just two and a half hours by train from Rome and an hour and a half from Milan. It is a major node of northern Italy's motorway network with seamless links to the wider European motorway system.

Useful tip: Trenitalia Pass, the special ticket for people residing permanently in any foreign country. Valid 4 up to 10 travel days within a two-month period, is sold abroad by agencies officially appointed by Trenitalia. You can also find it in Italy in the station of Bologna.

AIRPORTS:
Distance:

less than half an hour: Bologna G.Marconi International Airport.
Bologna's "G. Marconi" Airport has daily connections with major cities in Italy and abroad. Recent extended and refurbished, the airport is only 7 kilometres from the centre of town, just 15 minutes away by shuttle bus.
aprox. one hour: Forli International Airport
Rimini Fellini International Airport

aprox. 2-3 hours: Milan Malpensa International Airport
Rome Fiumicino International Airport
Venice Marco Polo International Airport
Verona Catullo International Airport

Universitą degli studi di Bologna
Bologna is home to the world's oldest university, founded in 1088, and since then a major international focus for students and scholars alike. Bologna "the Learned" (la dotta) refers to its famous University, "Alma Mater Studiorum", the first in the world.

Johns Hopkins University of Bologna

Useful tip: Exchange programs for foreign students with Universitą degli studi di Bologna: Fulbright program for U.S. citizens, Overseas, Erasmus, Leonardo
Other foreign studies centers:
Dickinson Center for European Studies, Via Marsala, 2, 40126 Bologna,
European seat of Dickinson College of Carlisle,
Center for Civic engagement Denver-Bologna,Via Val d'Aposa, 7, 40123 Bologna
Institute of Advanced Studies I.S.A. at Villa Gandolfi Pallavicini, Via Martelli 22-24

1) LEARN ITALIAN WITH ONE-TO-ONE LESSONS IN BOLOGNA

Bolognalingua is a small association of experienced teachers that provides you a special opportunity to learn and improve your Italian in an authentic Italian atmosphere.
---

2) You can learn the spoken italian that you will encounter in the day life at the Koinč Center, Italian language school in Florence, Lucca, Cortona, Orbetello and Bologna.
In Bologna, Koinč Centre classes are held in a palazzo located at the centre of the university quarter,
very close to "Studio Due Torri".
Useful tips by Kate Gralton: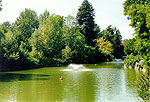 "Try jogging or walking in Giardini Margherita in the mornings it's completely empty. Stick to the paths though.
The Asinelli Tower is a better bet. It's the taller of the two towers that symbolise Bologna and is found at the end of via Rizzoli. The climb up is a pretty good aerobic workout and you can try running it two steps at a time to really work those thighs. Just when you think you are going to die, you're at the top, with incredible views of Bologna and rumoured sea views on a clear day.



Get yourself a bicycle. It changed my life when I got one. You can actually get around much faster than catching the bus. It's one of the great pleasures of living in Bologna. It's a small enough city to get around, car drivers are very bike-friendly and you can park anywhere. Somehow it's all enhanced if you're cycling. And you remember that you love living here."

DISCOVER BOLOGNA: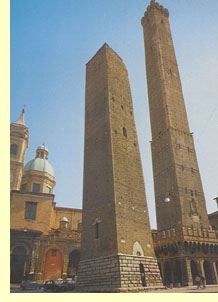 Bologna is a city with an ancient history. Its old town centre, classified by Unesco as the largest in the world, conserves vestiges of the old Roman town, still visible under Bologna busiest thoroughfares, as well as the remains of the earliest circle of the medieval walls. Everywhere there are vaults, arches and corbels dating from the 12 th through to the 19 th centuries.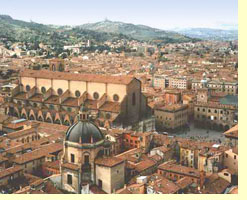 It is a city of towers, at one stage boasting some 300 in number. Although most were dismantled at the beginning of the 20 th century, towers are still a distinctive feature of Bologna's historic centre.
Visit the web site of the Bologna Municipality Department of Tourism
Useful tip: a virtual tour of Bologna

Bologna is a city of gastronomic excellence, the queen of cuisine and home of hand-rolled pasta made with eggs, the famous tortellini, tortelloni, lasagne and tagliatelle (these latter invented in 1487 for the wedding feast of Lucrezia Borgia and the Duke of Ferrara). Equally famous are the Bolognese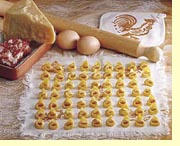 meat sauce, or ragł , mortadella and the typical Bolognese cutlet. But also balsamic vinegar and parmigiano-reggiano. The historic city centre is full of osterie (wine bars), like the famous Cantina Bentivoglio, home to live jazz, pastry shops, ice cream parlours and small restaurants which serve up traditional dishes in a friendly, rustic environment.

Useful tips:
Discover Italian food and wine with Vinarium travel agency, performing guided wine tastings, cooking lessons and wine tours in Tuscany.

DISCOVER EMILIA-ROMAGNA REGION:

The Region of

Emilia-Romagna,

lying between the Po's great course and the peaks of the Apennines, offers a great variety of landscapes, traditional cultures, and architecture: the Roman cities that run the length of the

Via Emilia,

the coast that descends from the Po Delta to the

Marche,

the ancient walled towns on the hills. Visit the official website of the

Emilia-Romagna Region, rich of information in English about Adriatic coast, Appenines mountains, Cities of art. Bologna is the region's capital but there are other small "capitals" of Emilia-Romagna. Imperial Ravenna, the restless Seigniories of Romagna, Faenza, "the little Athens among the untamed hill villages",

Ferrara

of the Este family, the cradle of culture and diplomacy, the dukedoms of Modena and Reggio, the Farnese and Bourbon courts in Parma and Piacenza.

Useful tip: try the Wine and Food routes: the pursuit of good food and wine will take you t

o restaurants, country inns, farms and traditional producers, all carefully selected and officially approved by the Food and Wine Route Association.

Useful tip: Follow the suggested historical-cultural trails: Leonardo's journey in Emilia-Romagna, Viva Verdi, the Lands of Matilde Canossa and others.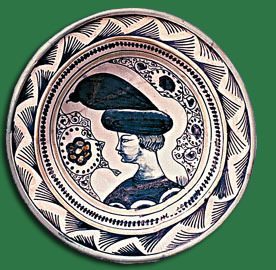 Useful tip: Handicraft: a legacy from the past. Visit the International Ceramics Museum of Faenza. "Grotesques" on a blue background, fruit dishes with fretwork decoration in the manner of Raphael, painted majolica, Art Nouveau tableware. Traditional faience design. Nothing has changed since the days of the Carraccis and the Marsilis. In Emilia-Romagna the city centres were made for craftsmen. And in today's modern town the role played by ancient trades is far from being secondary, from potters in Faenza to coopers in Modena who make casks for balsamic vinegar.
DISCOVER ITALY: Visit the Italian state Tourist Board official website
VISIT VENICE:
Wanting to visit Venice after Bologna?
Experience our friends Maria Grazia and Marco's B&B in a beautiful detached house in Spinea, 20 mns from Venice historical centre by bus. They have 2 wonderful twin bedrooms at guests disposal and will be pleased to learn you Italian language and cooking. Yoga lessons and shiatsu on request. Contact Maria Grazia and Marco at smaria186@hotmail.com

<![if !vml]>
<![endif]>