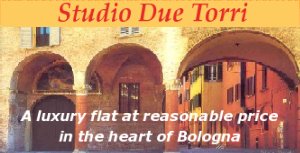 Via Inferno 24 - 40100 Bologna (BO) Italy - e-mail: house2005@zanasi.com
The area
Close to University of Bologna and Johns Hopkins, location of our apartment is perfect for visiting professors and on sabbatical, business and conference (Bologn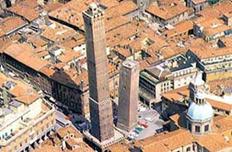 a fair district and Palazzo dei Congressi are 10 minutes far by bus) and vacation.
The apartment is located in the heart of historical Bologna, just under the Two ancient towers Garisenda and Asinelli and  at a walking distance to Piazza Maggiore and shopping streets.
The apartment is in a very typical medieval area, with narrow streets with porticos, very quiet, safe and elegant, with small restaurants, pubs, café, galleries, shops where you can enjoy the past atmosphere.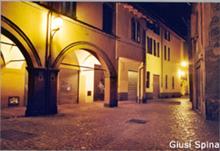 Once a week there is a lovely antique market for books and pictures: Celo' Celo' Mimanca" Collectors Market- at the corner Via Valdonica and Piazza S. Martino.
Most art and historic Bologna museums are within half mile, and so the Piazza Maggiore artistic complex. The Bologna University, the oldest in the world, is a quarter of mile away. So is Johns Hopkins University.
You can enjoy the relaxing atmosphere of Bologna city centre with absolute no worries. A popular italian song goes "In Bologna centre not even a child ever gets lost". The bus stop is just some meters away and can lead you anywhere in the town, or to the train station, the Marconi international airport, and the Exhibition District. There is a public guarded parking in a square just behind the house, and several covered garages in the centre town
See location of the apartment on the map (3 cm: 100 mt) here
Services in the area (within 0.5 mile)
Internet points : the nearest one is 150 meters far (via dei Giudei). Other public Internet points (free) are located in Piazza Maggiore, 5 minutes walk.
Information Office: in Piazza Maggiore
Coin laundry: via Irnerio at via Mascherella
Food market: in the area bounded by Via Rizzoli, Via D'Azeglio, Via Farini and Via Castiglione, (called "quadrilatero") Bologna reveals all its elegance and vitality. The bright sparkle of its shop windows, interspersed with the colorful stalls of the fish and fruit market, make this area a veritable "shopping paradise".
Jogging: Giardini Margherita (see Fitness at Useful links)