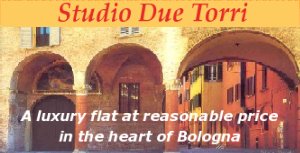 Via Inferno 24 - 40100 Bologna (BO) Italy - e-mail: house2005@zanasi.com
How to book
Check availability
Send an email to house2005@zanasi.com detailing:
- your full name and address,
- telephone,
-number of people,
-date and time of arrival,
- date of departure
If you have any needing or question, just ask!
We will be happy to help you to plan your travel and your staying.
In our website find useful informations (train schedule, maps of Bologna,
taxi sites...) and our suggestions about restaurants and where to buy
(Parmigiano cheese, Balsamic vinegar...) If you would like to visit Modena
(where we live), we will be happy to show you Piazza Grande and the
romanic Dome - one of the best in the world.
Rates
Rates depend on duration and period - minimum 1 week staying/ maximum 2 months.
Cost per week depends on period.

Rates include: all utilities :electricity, water, heating, A/C, condominium. Internet Key.

There is a discount if you stay for 1 month
Towels and sheets are provided at your arrival.
Restrictions
THE APARTMENT IS NO-SMOKING ONLY
Sorry, no pets