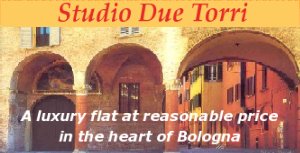 Via Inferno 24 - 40100 Bologna (BO) Italy - e-mail: house2005@zanasi.com
"Si,allora, vorrei un'insalata di pomodori,
e una mezza porzione di lasagna."
(from The Broker by John Grisham)
GRISHAM AND BOLOGNA
The wonderful city of Bologna is basking in the glow of attention afforded by American writer John Grisham, who has chosen to ambient most of his latest novel The Broker in its medieval city centre.
Grisham claims to love Italy and he certainly loves Italian food.
He took up residency in Bologna, got to know the city, made the rounds to all of Bologna's best restaurants (there are many), took some Italian lessons, went home and wrote his book...
GRISHAM TOUR
... Grisham visited the major sites of the city, San Petronio (the main basilica of Bologna, began in 1390), the 16th century Piazza del Nettuno with its wonderful fountain of Neptune, the Medieval tower of the Asinelli, and the landmark 18th century sanctuary of San Luca on the hill above Bologna.

Start your tour from Piazza Maggiore, the heart of the city, where are Accursio Palace, seat of the city hall, the Neptune Fountain, St. Petronio Basilica. Follow the porticoes on the left of the church to reach the Archiginnasio Palace, first permanent seat of the oldest university of the world founded in 1088. Then turn left till the most beautiful square of Bologna, Piazza Santo Stefano and the religious complex of St. Stephen with its seven churches. Follow via Santo Stefano and arrive to Piazza Ravegnana and the two towers Asinelli and Garisenda.
Visit the ancient Ghetto taking via dei Giudei at the left of the Towers, at the end turn left and then right: you are in via Inferno: you've found our apartment!
TAKE A BREAK AT "THE BROKER"S" FAVOURITES:

"La Cesarina Restaurant" Via S. Stefano, 19/b.
Specialities: lasagne, tortellini, fried in 'Italia' style, boiled meats, Bolognese cutlet
Rosa Rosae Via Clavature, 18/b. Is an historic Bolognese eatery frequented by all kinds of people. It attracts university students, tourists and, of course, native Bolognese who are very fond of this place. You will often run into famous Italian singers like Lucio Dalla, Luca Carboni and many others. It's the perfect solution for a quick, light lunch and especially pleasant for an intimate cocktail or drinks with a number of friends.
Bar Fontana, Caffe' Atene, Franco Rossi Restaurant, and many many others: try finding them by yourself!

the apartment


the area


facilities


how to get there


how to book


our guests say


what to do in Bologna and around


maps of Bologna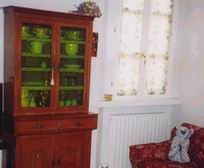 University of Bologna


Fair district


Johns Hopkins


Bologna "Marconi" airport


ATC Bus Company


Cotabo Taxi site


Cat Taxi site